"Before clarity, there are questions. Before emotions, there is the turmoil of silence. Clay works in much the same way –before simplicity of form there is complexity of the process; of translating emotion and thought. This is the crux of my work today –channelizing, sculpting and refining these complexities to achieve the dynamism of simplicity."
Rekha Goyal is a Mumbai based ceramic artist. Over the last 19 years, she has worked on installations and murals for private and public spaces, designed ceramic products under her own studio as well as for boutique lifestyle brands, been a part of the education space and projects in art therapy and artisanal craft.
A few years ago, she created a community ceramic studio in the heart of Mumbai which is a dedicated space for the education of the craft making ceramic art easily accessible to the local community, and creating a craft space that has also become a therapeutic practice for people using the space.
An avid traveller, she has been widely quoted for her entrepreneurial work in setting-up one of India's first networks of homestays. She has advised women groups in rural areas on generating livelihoods through sustainable tourism. She has also trained in the Indian classical dances of Bharatnatyam and Kathak for 9 years.
Rekha Goyal was born in Mumbai in 1979 and spent her early years in South America. She has been running her ceramic art & pottery studio in Mumbai since 1999. She graduated in ceramics from Sir J J School of Art, Mumbai and did her masters in Art in Architecture, London.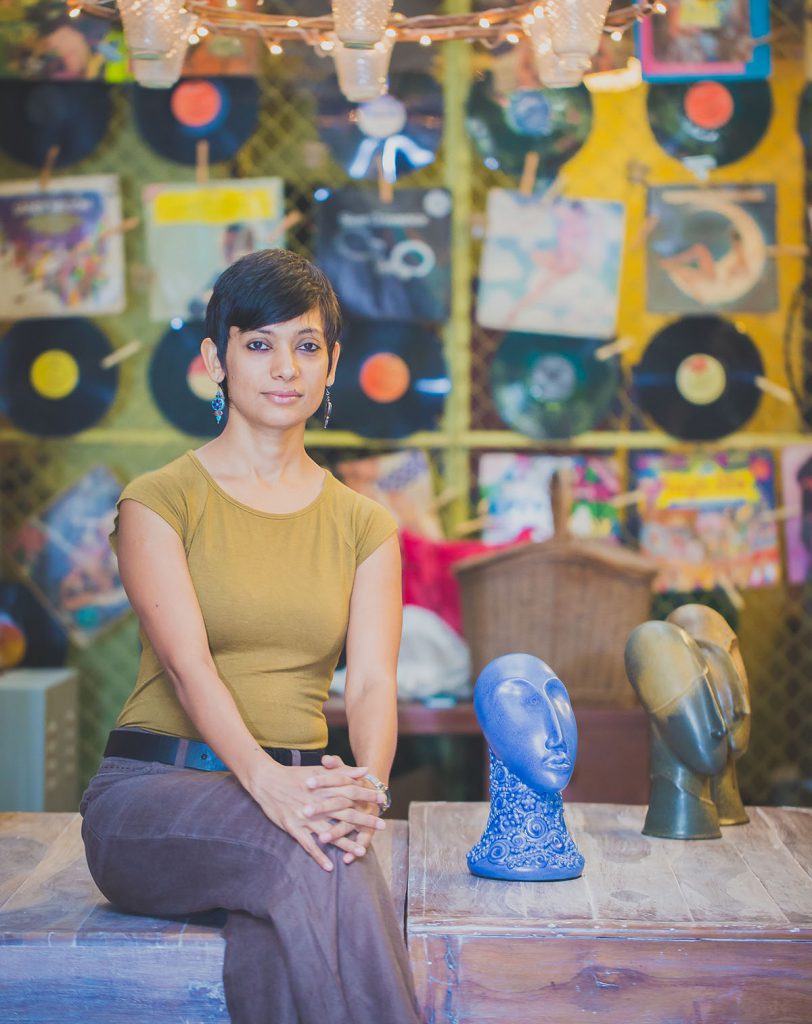 Projects
Live Installation & Workshop, Studio Pepperfry, Mumbai
2018 – To highlight the versatility of clay as an environmentally friendly home decor medium, we were part of Studio Pepperfry's World Environment day celebration. We did a live construction of a mural using a special clay formulation and conducted a workshop as well to introduce people to the wonderful world of this very natural medium
Suspended ceramic art installation for Antara Senior Living, Dehradun
2018 – "Flight of the Bird", a suspended outdoor installation in ceramic
Mentor at the Piramal Art Residency
2017 – Invited to mentor the resident artists at the Sustaining Earth residency, Piramal Art Foundation, Mumbai
Murals for Antara Senior Living, Dehradun
2017 – "Solar", Ceramic Mural
Wall Art for a residential space, Mumbai
2016 – "The White Shadow", Ceramic Wall Art
Mural for Antara Senior Living, Dehradun
2016 – "The Cosmic Ocean and The Birth of Life", Ceramic Mural
Mural for Sun n Sand hotel, Shirdi
2015– "The Tree", Ceramic Mural
Installations for Le Meridien, Nagpur
2015– "The Seed", Mural installation
"Holon", suspended art installation
Curator on the Kutch pottery project, "Ghadai" supported by the Hermes Foundation, Paris:
2014-15 – Khamir, a Kutch based NGO won a fellowship from the Hermes foundation for their project on the pottery of Kutch. The project primarily focused on the research and documentation of this craft which has a 7000-yr old history in the region.
As a new initiative, I was invited to curate a show on specially created Kutch pottery by the local potters that would be auctioned online and exhibited at the Hermes store, Mumbai. As the curator, I interacted (which included several field trips) with the potters and the Ghadai team to develop a theme and the works for the show. We also created and published books on each of the works that were part of the show.
Kohler Bold Art artist 2014
2014– Invited to create an on-site ceramic installation at India Design 2014, New Delhi as the artist for 2014, Kohler Bold Art programme
Mural Installation at Park Hyatt, Chennai
2013– Commissioned and installed a mural for the Dining Hall of the Park Hyatt at Chennai
Set up The Pottery Lab, Mumbai
2012– The Pottery Lab is a quaint studio at Bandra, Mumbai set up for enthusiasts where they can learn, practise and engage with clay
Mural Installations at Grand Hyatt, Goa
2011– Commissioned and installed a mural for the central lobby and artworks for the guest rooms of the Grand Hyatt Spa & Resort at Goa.
Public ceramic art installation at Kala Ghoda, Mumbai
2007– Created a temporary site-specific ceramic installation-"Amalgamation" for a landscaped traffic island at Kala Ghoda; Mumbai's Art district. Sponsored by Westside (A TATA Group Company)
Community Project, Art Therapy
2002-03– I worked with a 21 yr old autistic girl at a school/vocational centre for the mentally challenged in Mumbai, India. Clay & two-dimensional art was used as a therapeutic medium. While the work effectively brought about some behavioural changes in her at the end of ten months, for me, it was also an exploration into the psychology of art.
Shows
Part of the group show titled H2O, AKFD, Jaipur
2018 –Themed around Water, 10 ceramic artists were invited to create ceramic sculptures and murals for this show hosted by Ayush Kasliwal's Furniture Design studio at Jaipur. My work for the show can be viewed here.
"Lunar", Ceramic Tableware
2017 – Exhibited at the newly launched EKHO store in Bangalore, a boutique home store by the Godrej Design Centre. details…
"Time" Ceramic Sculpture exhibited at Mutable, Mumbai
2017 – My ceramic sculpture titled "Time" was curated and exhibited at "Mutable", a show on Indian Ceramic and Clay Art since 1947. This is an initiative of the Piramal Art Foundation. The show has been curated by Jackfruit Research & Design and is showing at the Piramal Museum of Art, Mumbai.
"Pretty Blue Cup"- a travelling show of my studio pottery
Pretty Blue Cup is a travelling show of my studio pottery and of an adventurous cup in pretty ceramic blues. The show is hosted periodically at different outlets that have an appreciation for art and for studio pottery.
2014– hosted by Mineral at Bandra, Mumbai
2013– hosted by Sanctum at Khar, Mumbai
2013– hosted by The Tribe at Versova, Mumbai
"Tiles Forever" Show hosted by Delhi Blue Pottery Trust, India Habitat Centre, New Delhi
2012– Participated in a group show of murals by ceramic artists in India at the India Habitat Centre, New Delhi
Indo-Australian pottery show, India Habitat Centre, New Delhi
2010– Invited to participate in a collaborative show of Indian and Australian ceramic artists at the India Habitat Centre, New Delhi
Art n Soul gallery, Mumbai
2008– Participated in Group pottery show themed "Throw"
Samsara art show, Mumbai
2007– Invited to show at "Art within reach", pottery and ceramic art exhibition by Samsara Art at Hyatt Regency, Mumbai
Group ceramic art shows, Mumbai
2006– Two group shows with Mumbai based Ceramic Artists, Artist Centre, Mumbai
Ceramic art exhibition at Yamini, Mumbai
2005 & 2006– Two shows of my ceramic artworks and lifestyle products hosted by lifestyle store YAMINI in Mumbai. One of my constant endeavours has been to showcase my art work at relevant, yet non-gallery spaces. I believe this helps to make art more accessible and overcome myths.
"Mugged", Mumbai
2005– Exhibition of handmade ceramic mugs at Mocha Coffee bar, Mumbai
Group ceramic art show at Jehangir Art Gallery, Mumbai
2002– Invited to participate in a group show organised by Jehangir Art Gallery
Exhibition of studio pottery home products, Mumbai
1999– 'Simple Things' : Exhibition of ceramic home products, Mumbai
Some of the organisations I have worked with




In the media